Accessories sold separately or with Custom Packages
Whether you're tired of showing up to meets and shows with your bone-stock car, truck, or jeep or are simply looking to customize your ride to better suit your needs and tastes, you've come to the right place. Rated by many of our customers as Chicago's #1 shop for vehicle customization, Symbolic Kustomz has a heck of a lot more to offer than just rims, tires, and wheel packages. From lift kits, custom grills, and light bars to vinyl wraps, tints, and bed liners, Symbolic does it all. Join the Symbolic family and see how we can take your ride from lame to changing the game.
I've had work done in the past on my Jeep..... body lift, rock lights, light bars. Eddie is always amazing to work with! Recently I wanted to beef it up even more. Dan helped me pick out the wheels that would look best. I changed my mind on the tires a couple different times and Dan was very accommodating and knowledgeable.- Shanon S.
At Symbolic Kustomz, we promise to exceed your expectations. A custom upgrade for your car, truck, or Jeep means more to us than just a satisfied customer - it's a milestone and achievement in our books. We take pride in all the modifications we do, which is why we always go the whole nine yards when matching OEM quality and execution. Some of our most popular custom modifications for trucks and jeeps include our professional grade lift kit installations and leather interior upholstery. To learn more about the services we offer at Symbolic, take a look down below or visit us at our shop in Joliet, where we serve automotive enthusiasts from all over the Chicagoland area.
Lift Kits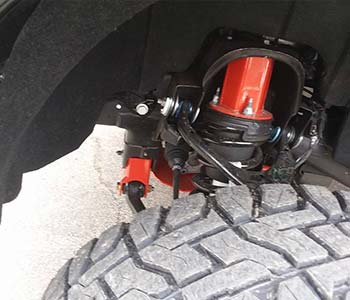 Let's face it: there aren't a lot of things more impressive than a lifted truck with some beefy wheels and tires under the fenders. Installing a lift or leveling kit is one of the most effective and dramatic ways to transform the look and performance of your truck.
They not only allow the driver to sit up higher, but can actually improve towing capabilities, visibility, and the ability to fit more aggressive off-roading tires - not to mention the insane looks they offer. Producing factory warrantied vehicles for Ford, Jeep, Dodge, Chevy, Nissan, and Toyota dealerships, Symbolic Kustomz is perhaps the most trusted lift kit installer within the Chicago area. We ensure the highest quality on all of our custom projects to give your a safe and reliable upgraded jeep or truck. We also offer coilovers and lowering springs if you plan on lowering your car. If interested, don't hesitate to give us a call for more information.
New to the suspension game? Please take a look at some of the lift kits we offer below!

Vehicle Vinyl Graphics
Vinyl graphics and decals are one of the safest and most cost effective methods to decorate your car, truck, or van for personal or marketing use. Unlike entire wraps, vinyl graphics are a great way to obtain the same look with more flexibility and options when it comes to touch ups or future customization.
Symbolic Kustomz offers the best quality in vinyl graphics and decals within Joliet and the surrounding suburbs area. Throughout 20 years in business, we have completed vinyl projects ranging from business logos on vans and commercial vehicles to custom personal decals on the sides of trucks and SUVs. By following a very meticulous application process, we ensure that all vinyls come out without flaws. While other shops often cheap out on vinyl quality, we cut only the highest quality vinyls with our state-of-the-art machinery and tools without passing any of the excess costs onto our clients.
We begin the vinyl graphic and wrapping process by ensuring that the area where the graphic will go is spotless. This will be the foundation of the fit and finish of your graphic; if the spot isn't cleaned properly, the graphic risks an uneven application leading to peeling, bubbling, and worse. Once the area is clean, we take our vinyl wrap - drawn up and cut out using our first class computers and cutting machinery - and begin positioning where we would like it to go. This is one of the most vital parts, because once the vinyl is applied, it's not going anywhere. We take the most caution to measure multiple times, cutting only once. Throughout the entire process, we even take into consideration temperature and moisture levels of our application room to ensure that the vinyl graphics looks the best possible quality on your car or truck. Once the vinyl is correctly positioned, we cut and apply, squeegeeing out any stray air or water bubbles. The finished product is a graphic that looks no less than the highest quality in all of Joliet and the surrounding suburbs.